Salient Features
Coal Saving
Guaranteed coal Saving of 10%.
Ease of Operation
Completely automated performance.
Stable Functioning
Overcomes high voltage fluctuation. ( 300-480 Volts )
Versatility
Effecive even with varying quality of coal
Electrical Saving
Buy Back Arrangement
Additional Services
24 hour support for customers with equipment.
Equipment performance evalutions and mechanical inspections.
On-site product testing.
Spare parts, retrofits and expansions for all brands.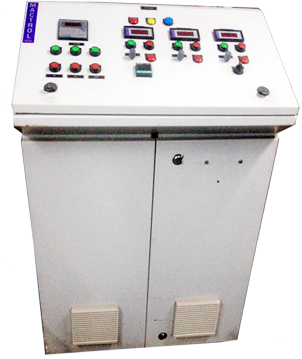 The Coal Saver has been designed after taking field trilas at various sites-to develop a full proof product with invaluable feedback from the Managers,Factory Managers, Electricians and Operators.
The Panel effectively incorporates complete automation and electronic synchronization of ID Fan, FD Fan and Chain Grate Stoker to deliver complete combustion and balanced draught operation.
Principle of Operation
User shall set the desired HAG Temperature, following which a command is generated and the processed through the logic controller which in turn balances the operational parameters as per our patented algorithm. The processed signal is relayed to the VF Drives which control the functioning of the system.
Coal Saver Guaranteed Savings
Avg.Coal Consumption
Kgs / Hr
180
( 16-5 Passs Heater )
Cost of Coal
Rs. / Kg
8
Percentage Minimum Savings
%
10
Quality of Coal Saved
Kgs / Hr
18
Value of Coal Saved
Rs. / Hr
144
Daily Operational time
Hrs.
16
Daily Saving
Rs.
2304
Annual Guaranteed Saving
Rs.
460800
Payback Period
Months
6
SPECTRUM

™ Dryer Control Panel
Dryer Panel is a speed-based controller designed to assit to automating Tea drying operayions. Simple to operate, the SPECTRUM Controller offersusers the ability to operate the dryer in any time interval adjustable down to ecah second.
Optimally adjusted timing ensures perfect drying of tea, upholding the quantity and bloom.
Salient Features
Compatible with all series of Conventional Dryer and is factory-programmed to work with all dryre models.
Dryer Controller Includes built-in control diagnostics
Ensures Electrical savings
Incorporates all controllers, drives and monitors into one easy-to-use package
QUANTRUM

™ Dryer Control Panel
Currently under-development. Up-graded can be incorporated into existing SPECTRUM PANEL.
Automatically adjusts dryer unloading speed to maintain discharge moisture.
Process-parameters can be adjusted, process-measurements and status of Fans, Heater, Volumetrically Discharging etc.
Touch Screen PLC to plot accurate graphs between Time & Speed: based on Temperature & Humidity.
Simple to operate , the SPECTRUM Controller offers users the abilityto operate the dryer in one of two modes of operation.
Batch flow with temperature based automatic moisture control.
Continuous flow with tempearture-based automatic moisture control.