Additional Services
24 Hour support for customers with equipment.
Equipment performance evaluations and mechanical inspections.
On-site product testing.
Spare parts, retrofits and expansions for all brands.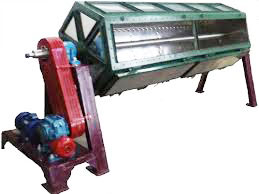 1. ROASTER :
Designed in such a way that steam enters through the both ends of the perforated shaft in which roaster is fixed. Roaster rotates at a speed of 24 r.p.m.. Shaft ends are coupled with rotating union. Rotating unit is such a unit that its one end rotates with the shaft and other part is fixed with the steam delivery line.
2. DRIVE UNIT
It is the speed reducing unit.
5 hp 440v 3 ph 1440 rpm motor is used in the unit with different size pulleys with different size belts so as to reduce the speed from 1440 rpm to 24 rpm i.e. 60:1 ratio.
CAPACITY In the roaster 200 kg green leaf can be charged at a time.
OPERATION After filling the roaster with green leaves of 200 kg. directly plucked form garden, doors of the roaster are closed and power switched on for rotating the roaster. Consequently steam lines are opened. Steaming continues for 6 to 7 minutes and within this time the leaves are boiled. If the leaves are not tender i.e. plucking after 7 days then time of roasting increases by one minute to one and a half minute.
SALIENT FEATURES
• Any Person Can Operate
• Low Initial Investment
• No Running Cost
• Requires Small Floor Space