Customer Value
Heavy duty pillar type Main Drive Gearbox. Output speed can be varied as per customer requirement.
Dynamically balanced rollers and conveyor rollers for improved performance.
Directly mounted driving pedestal ensures trouble free performance under any condition.
Single cast Table with asymmetric type well design to impart the desired degree to twist during rolling integrally cas bearing housing design prevents leakage of lubricants or the seepage of moisture.
Lubrication, Bearing inspection and grease repenishments can be carried out easily, without bearing removal independent drive arrangement for pressure cap nad electronically controlled movement.
Additional Services
24 hour support for customers with equipment.
Equipment performance evalutions and mechanical inspections.
On-site product testing.
Spare parts, retrofits and expansions for all brands.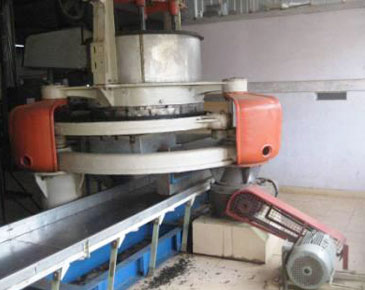 VORTEX™ is a conventional roller for orthodox and green tea rolling. The updated design of VORTEX results uniform torroidal motion, thereby ensuring optimal rolling and oxidation of the leaves. Enhanced efficiency results in reduced power consumption and minimal breakdowns.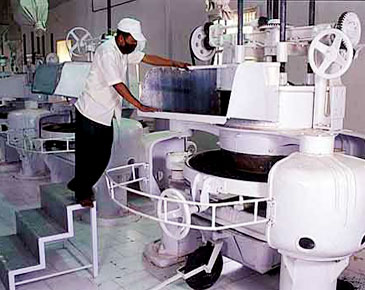 Principle of Operation
A conventional roller for orthodox rolling consists of three parts- the table, the hood and the pressure cap. Rotation of the machine is achieved through three crankshafts attached to the table. The level gear mechanism transmits power to one of the crankshafts at a time, while the other two rotate freely on their bearings and play an auxiliary role. The pressure cap applies pressure to the leaf mass during rolling, imparting the proper twisting and brushing action. It is the pressure applied during orthodox rolling that causes the extraction of sap and imparts twist to the leaf. In some kinds of rolling tables, both vertical and lateral pressures may be applied. Vertical pressure is applied with the help of pressure caps, whereas lateral pressure is applied by a cone fitted in the middle of the table. This cone also causes greater circulation of leaf than that provided by battens alone. Typically a charge of leaf is rolled for 20-30 minutes and then sifted. The rolling induced chloroplast popping action is helped by the heavy rolling pressure required to induce oxidation – particularly with battens and cone as seen above – not only pops the chloroplasts but also breaks the shoot into pieces and curls and twists it giving character and style.